Which plan should I choose?
To know which is the best shopify plan for you, you must first take several factors into account. Are you going to start an e-commerce or did you already have one before? How many clients do you normally have? How much budget do you have to invest in this platform? What are the needs of your business?
Answering these questions, can guide you if you are very lost, however, below we will see in more detail what each plan has and which could be the ideal one for you.
Short Comparison Table
| | | | | |
| --- | --- | --- | --- | --- |
| Features | Basic | Shopify | Advanced | Plus |
| Price | USD $29 /mo | USD $79 /mo | USD $299 /mo | USD $2000 /mo |
| Online store | ✔ | ✔ | ✔ | ✔ |
| Unlimited products | ✔ | ✔ | ✔ | ✔ |
| Staff accounts | 2 | 5 | 15 | Unlimited |
| Free SSL certificate | ✔ | ✔ | ✔ | ✔ |
| Manual order creation | ✔ | ✔ | ✔ | ✔ |
| Discount codes | ✔ | ✔ | ✔ | ✔ |
| Reports | ✘ | Standard | Advanced | Advanced |
To see a more detailed table visit Shopify pricing.
Basic Plan
The basic Shopify plan (the most popular) is a very good plan for those who are just going to put their store in the online world or are going to start an e-commerce. Well, for a basic plan, it offers a lot of features so you can start getting into the world of Shopify and generate lots of sales.
It is a great plan to test how your online store could work. In addition, we consider that its price is very good for all the possibilities it offers.
Shopify Plan
This plan is ideal for businesses that already have a good customer base, are growing and need a solid online store. A very interesting and useful feature is that it offers you more detailed sales reports which will help you make better decisions to increase your sales.
In addition to providing more features than the basic plan, the credit card fees are lower.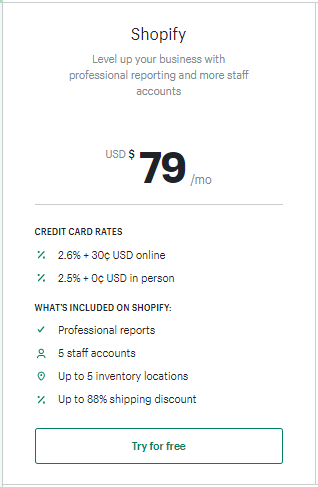 Advance Plan
This plan is suitable for consolidated companies in the market and also for those that aim at the world market.
This plan includes all the previous functionalities and some new ones that allow you to do a better analysis of what is happening with your store. The reports it brings are the most advanced and are very complete. In addition, it allows you to connect in real time with the carriers, for example DHL.
If you are a very established company in the market, you should consider this plan.
Shopify Plus
This is a plan that is designed only for large companies that invoice more than 1 million dollars per year. This plan, in addition to including all the aforementioned features, includes advanced functionalities related to APIs, fulfillment and security.
This plan allows you to automate many tasks, so your company could save a lot of time on simple tasks and increase its productivity.
This plan, being more exclusive, has its own section. To know more about it you can visit Shopify Plus.
Conclusion
To choose the most convenient plan, evaluate the current state of your company, how you see it in the future and analyze whether the features provided by the plans are what you really need.